Mostar on our motorbike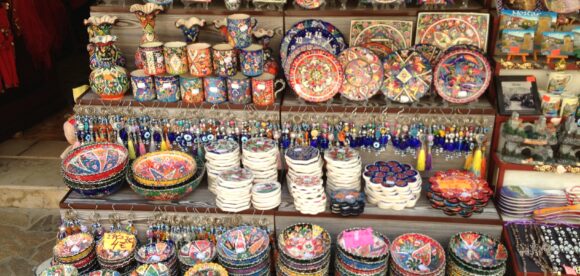 Mostar:
our first encounter with the big war
For every bosniac stop we have to say thank you to some persons, for this one: thanks to the owner of Villa Globus (the hotel where we stayed in Mostar). Thanks for your honesty, for the sincere suggestions, for the great hospitality and for the perfect Ciccions' accomodation!! Thank you with all our hearts!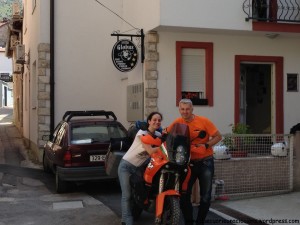 We read a lot about Mostar before our departure…our studies before trips are a big help but, obviously, it trains minds but not hearts.
Once arrived in Mostar we brought our baggages in the room we booked at "Villa Globus", a wonderful guesthouse in the center of Mostar.
We arrived with hearts in pieces, we've never seen a town destroied by the war and Mostar still shows signs of war…it's really sad thinking that we are the unique race able to self-destroy.
So we arrived at Villa Globus and our humor wasn't the best…but we were received by one of the beautiful bosniac huggies that let us forget all…
The owner made ourselves at home and offered us some tea, he helped us placing the Ciccions, gave us a map and showed where to go and the baggages and he gave us some suggestions (one of them: pay ever with THEIR money in order to avoid fraud)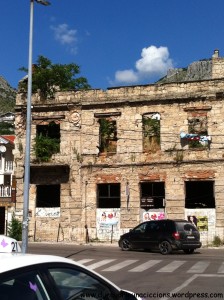 Mostar is wonderful, we suggest a visit at the mosque Koski Mehmed-Pasha (or Pašina) that allows a meravellous vision of the old bridge (Stari Most) both from the minaret and from the garden in the back of the mosque (the ticket costs 8 bosniac marck more or less 4 euros).
In the program that you can download from the intro of this trip, you will find the Tara's tower, the ancient street of commerce and obviously the Kujundziluk.
Tara's tower was a powder keg, it is situated in one of the extremities of the old bridge and today it is the location of divers' club (in the morning you can see guys diving but we didn't have this luck 🙁 )
In the ancient commercial street (the street from wich you'll enter in the mosque) you can find prices lower compared with the old part ones SO if you want to buy one of the wooonderful bags you'll find everywere in Mostar…make it there!!
(yes…i did it!!)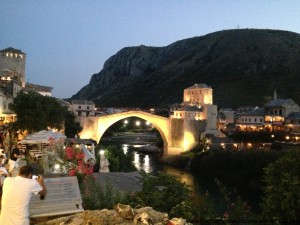 In Mostar you'll find a lot of shops, it's true, but their colors are really unique!!! I don't think words are sufficient so here are some photos: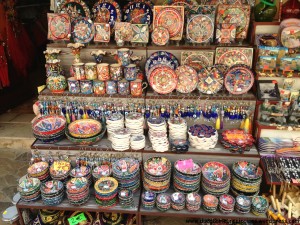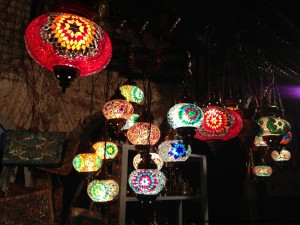 For the ones who loves orientals atmospheres like us…it's pure magic…
You will read about a pub in a cave…unfortunately (or luckily, it depends on the points of view) it turned in a disco with very heavy music…so we passed it by and preferred a place that the owner of Villa Globus suggested to us (thanks to him we had a free welcome drink too). It's called "Sadravan", regular prices, good food and waiters dressed with tipical dresses!!
You'll find all the photos of our beloved  Mostar clicking here

If you need help to plan your holiday we can help you here!