Our top 7 for a weekend in Vienna
By : duecuorieunaciccions
/
Tags :
48 hours in Wien
,
belvedere wien
,
castles Wien
,
grinzing wien
,
highlights wien
,
hofburg wien
,
how to reach grinzing
,
klimt wien
,
plan a weekend in Wien
,
prater wien
,
sachertorte wien
,
schonbrunn castle wien
,
sissi princess wien
,
stephansdom wien
,
weekend in Wien
,
what to do in Vienna
,
what to do in Wien
,
Wien
/
Category :
Weekends
/
0 Comment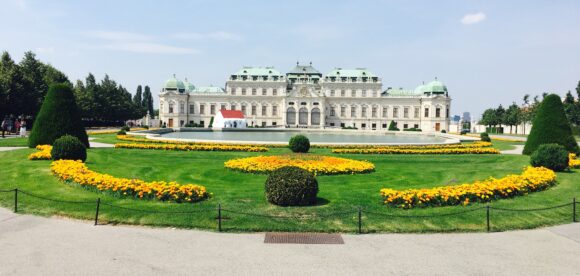 Our top 7 for a weekend in Vienna
How you'll learn in 48 h to hate Sissi and to dance Viennese Waltz!
If I had to describe Vienna with one adjective, I would choose: princely.
In all of our tours we had never explored such a princely city and our dream was accompanied by street musicians who played waltz with violins in every corner of the city.
If you are wondering if, just once, we avoided to clown around the world the answer, more than obvious, is: NO.
We danced a waltz in the middle of the street, with 45 ° and the Schönbrunn Castle as scenery.
It's time to open your hearts, travellers!
In this post there is so much wonder to go crazy!
At the bottom you'll find a small gift too: a pdf for free with the "practical" tips on transports, cumulative tickets and restaurants to organize your perfect weekend.
It wasn't easy to select what to see in a few days and to follow our plans in a HOT Vienna, but we had the support of tourism board that did everything to give us a hand. Here's the list of seven things you can't loose during your weekend in Vienna(the order is not random).
1. Hofburg Palace and Sissi Museum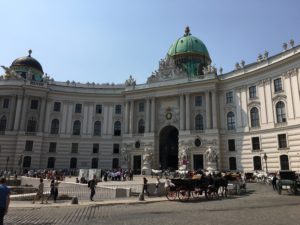 Vienna's symbol par excellence, wonder of wonders, there is not even a corner of this fairytale palace that deserves to be admired. An audio guide made us walk in the court life from the Silverfield Museum. After a few minutes with your mouth open you will have no choice: you will be completely abducted by the pictures of court dinners, the colours and the indescribable pomp of light exposed in every single room.
At the end of this tour you'll have a very clear idea of ​​how much wealth lived in this place!
The second part of your visit might upset your life (matrimonial and not).

Sissi museum was A TRA-GE-DY!!!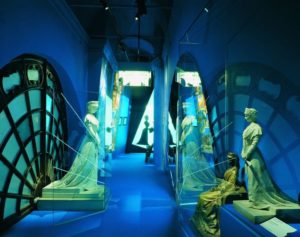 Raum "Mythos Sisi" (Wiener Hofburg, Sisi Museum) © Schloß Schönbrunn Kultur- und Betriebsges.m.b.H. – Edgar Knaack
So, ladies and gentlemen, the real Sissi is not the one they told us.
Very spoiled, free beyond any limit and not caring for the love of that cheek who made it rich and paid for all her travels.
Poor Francesco Giuseppe I, he wanted a young and beautiful girl, but she was unmanageable.
Beds in separate rooms, remote lives, official requests to enter the bride rooms.
Pasquale hate her, and told her a lot of swear words.
My poor ears had peace only after the explanation of her assassination.
My point of view: the Museum is wonderful, it is well structured and is an introduction necessary for the visit of real flats.
Feminists and masked men, however, should have separate ways for the visit.
We will present a collection of signatures for it!
With regards to the apartments, inside you cannot take pictures without permission and, I admit it, it was good! We didn't have to think about phone, go pro, camera & co. so we really enjoyed the full beauty of our three-hours walk.
The three photos in this paragraph have been sent to us by the castle press office to be used in this post.
Wohn- und Schlafzimmer von Kaiserin Elisabeth (Wiener Hofburg, Kaiserappartements) © Schloß Schönbrunn Kultur- und Betriebsges.m.b.H. – Edgar Knaack

Konferenzzimmer (Wiener Hofburg, Kaiserappartements)/ © Schloß Schönbrunn Kultur- und Betriebsges.m.b.H. – Julius Silver
2. The Sacher's Sacher


I know, you would like to know if it is worth paying 8 euros for a piece of cake.
But I am not the right people to give you an answer.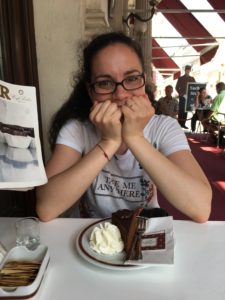 Sacher is my favourite cake and for me that afternoon was a fantastic gift!
If you decide to reach the famous Sacher hotel to eat the original Sacher in Vienna too, the nearest metro stop is "Karlsplatz".
3. The Belvedere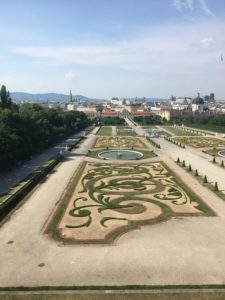 45 degrees. There were 45 ° when we went to Belvedere.
In essence, the only dry one was Kappatigremme and we left the wake as snails. This one and the little time we had, were the only reasons why we could only visit the upper part of the Belvedere, although we are really sorry for this.
The palaces are wonderful, like all the buildings of this enchanted Vienna. The lower part houses temporary exhibitions and you'll find all the information about this on the official website.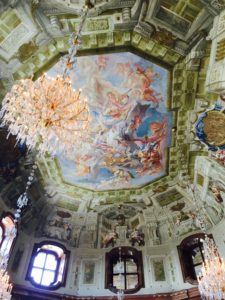 The upper Belvedere is the most famous part of the museum because it houses some of Klimt's most famous paintings like "The Kiss" and "Judith". I was struck by the representation of "The kiss" in Braille, an idea that I found wonderful and that every museum should copy!
4. Schonbrunn castle

Sissi's summer residence. Her. Again. Oh poor me!!
Seriously, this is one of the most beautiful baroque palaces in Europe and I still have in my eyes all those colours, frescoes, tapestries, hand-painted wallpaper and so much gold. A full immersion into a royal family life!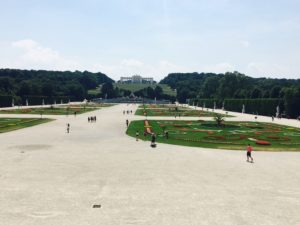 5. Staphansdom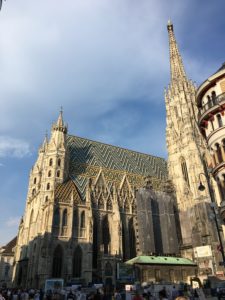 The Saint Stephen's Cathedral is one of the symbols of Vienna and with its 107 meters constitutes Austria's most important Gothic monument.
Its colorful roof reminded us a bit Zagreb and the interior is really breathtaking. However, we recommend that you pay close attention to the opening times of catacombs and towers!
We unfortunately did not manage to arrive in time despite having returned both days; You'll find timetables and prices on the official website: St. Stephen's Cathedral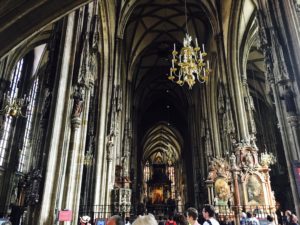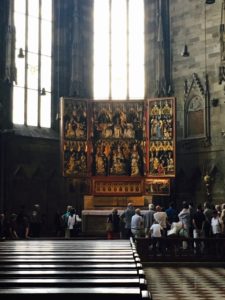 6. Grinzing

The Grinzing area allowed us to discover another soul of Vienna. In the low colorful houses of this neighbourhood, a little bit out of the centre, lived the wine growers, its main feature is the great variety of wines with which you can accompany delicious typical dishes.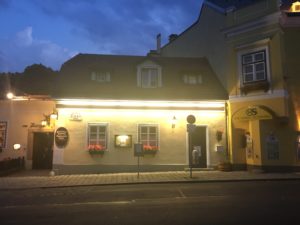 It isn't a very cheap area and we arrived a little bit late so we were almost alone, but we dined in a lovely enchanting little place illuminated only with candles and we drank great wine.
To reach the Grinzing district, from the "Universitat" stop of the U2 metro line, we took tram 38 towards Grinzing.
The tram stop is right in front of the stairs with which you exit the metro, so it's easy to find.
7. The Prater
Prater's rides are not "normal" adrenaline rides.
Pasquale laughed and I got the risk of heart attack; just to give you a little idea of ​​the monster on which he took me, I leave you a link to the video on our youtube channel: Black Mamba Prater Vienna.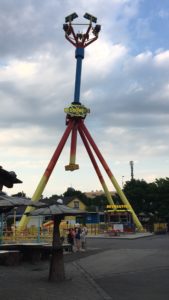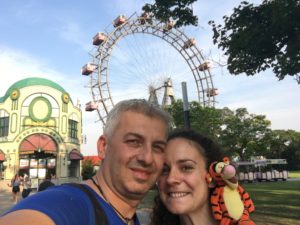 The tickets cost more or less 5 euros apiece so you should go for a walk and watch how many ride you want to take before to buy the cumulative ticket.
In the Prater's official website you will find up-to-date information on costs and times.
Surprise!!

As promised, we leave you a little gift to download with the answers to three questions necessary to plan your perfect weekend.
Practical tips for a weekend in Vienna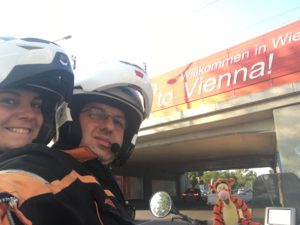 We deeply thank the Vienna Tourist Board and the Press Offices of Schonbrunn Castle and Belvedere for accompanying and supporting us in this wonderful adventure!