Szechenyi's baths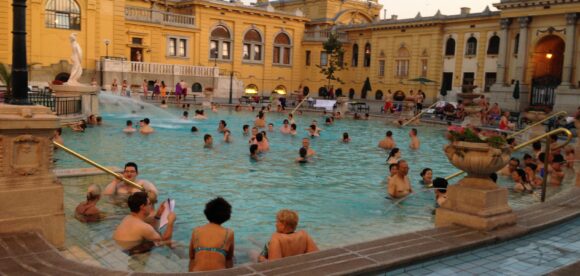 Szechenyi's baths
Budapest is a very strong-impact  city, we arrive in the afternoon and we are thinking at the relax in Szechenyi baths already.
After an incredible, all of a sudden, we are next to the Parliament…
it's love at first sight…(you'll find all photos in our facebook page)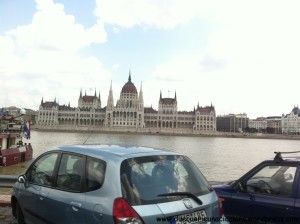 The hotel is a very strong-impact one too…the receptionist doesn't say a word, the room is very dirty and full of mosquitos that left signs we still have on arms after 20 days.
Luckily for us hotels are only a point of stand so, we can say that is good however…
As planned we change and fly to the Szechenyi Baths!
This baths are in the back of the best square of Budapest (heroes square) where we were involved in a motorbike's meeting!!!! Take a look: Ciccions in a motorbikes' meeting in Budapest
Reasons why you have to go to Szechenyi Thermal Baths:
– price: only 15 euros to have a personal cabin to change dresses, the entrance to more then 30 swimmingpool (everyone has different temperature), steam baths (with differents flavour and temperatures), turkish baths, showers and hair dryer
– size: this is the biggest thermal bath of Budapest
– the incredible relax: you can stay there untile 10 p.m.
– the very comfortable park next to the entrance
– the company: woman and man can stay together (not all tha baths allow this) and you will see people playing chess in the swimming pool!
– the garden in front of the bath where you'll find Anonymous, with wich KappaTigreMme wanted a photo!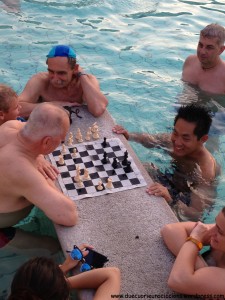 In the evening we went in the restaurant of Rocco Siffredi!! 😀
Sadly, today is not working anymore.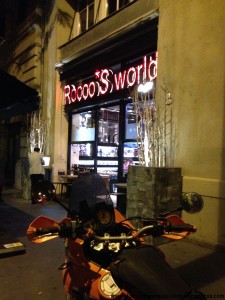 After the first day of total relax:
– Budapest day 3 of 3:
Ecseri & Buda

If you need help to plan your holiday we can help you here!