What to see in Sarajevo
By : duecuorieunaciccions
/
Tags :
bascarsija
,
capaiebo
,
eternal flame
,
latin bridge
,
morica han
,
national library sarajevo
,
sarajevo
,
sarajevo's fountain
,
tunnel museum
,
two days in sarajevo
,
Vjecna Vatra
,
weekend sarajevo
,
what to see in sarajevo
/
Category :
Weekends
/
0 Comment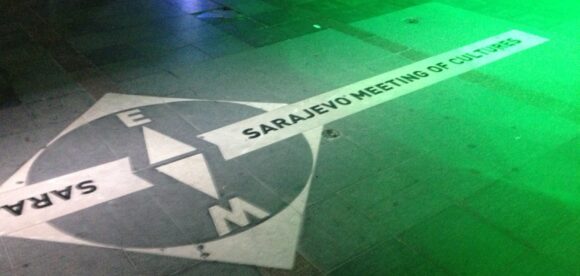 What to see in Sarajevo
FirstEST thing to see: the waterdè
No words to describe it! Let's see a video:  waterdè
(I know that maybe only Italians will laugh for it)
So…let's be serious…
Only one request: if you really don't have time to read all the nine points, please DON'T LOSE the last one.
It's the best one!!
1. The roads to Sarajevo
This blog's philosophy says that you have to enjoy the trip before seeing Itaca and in this case the trip was really unforgettable. The road between Mostar and Sarajevo has no comparisons..a dream for bikers!!
I'll leave it to you to judge: Bosniac roads
(little suggestion: on the road to Sarajevo, if you come from Mostar, stop eating in a place that is about 5 km before Sarajevo, it's called "Motel restoran Cjenovnik" we ate two dishes of meat with side dish, sweets and two coffees and paid 10 euros, the food it's really good and we found there some Italians exporters who go there from 25 years SO…it worth it!!)
2. The Latin Bridge
The bridge where the first World War began…
here the Bosniac rebel Gavrilo Princip killed, on the 28th of June 1914, the archduke Francesco Ferdinando.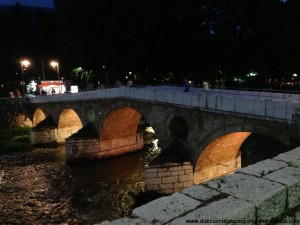 3. National library
in front of the Latin Bridge you'll find the National Library…
One of the firs buildings totally destroyed during the war, to damage the heart of a city that was considered a very important cultural centre.
Books saved Sarajevo's people because they were burned when there wasn't heat.
It means that who loved books, and have a lot of them at home, had to destroy them to survive.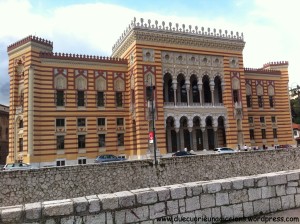 4. Central street: Bascarsija
It's a road halved by a winds' rose…
In the western part of the road you will walk in Wien, through shops and architectural structures typically occidental, you'll find only Christian church.
Once passed the rose of winds, as for magic, you'll find in Istanbul…you'll find only mosques, restaurants with typical bosniac dishes, souvenirs' shop with colourful lamps, roast cob and sweets with spicy flavour typical of East.
(little suggestion: DON'T eat what I show you in this photo.
In one of our culinary walks I tried this sweet.
Everyone has his tastes but damn…it's like petrol!!! If you decide to not follow this suggestion I prey you to write to me if you survive. Thank you.)

5. The fountain Sebilj
At the end of the eastern part of the central street you'll find a wonderful fountain in Moorish style…
The legend says that who drinks there we'll return in Sarajevo…
I don't know if we'll return there, but I can assure you that every word that
I'm dedicating to this city with all my heart, take me back in those streets…
(little suggestion: very near to the fountain, in the first parallel of the central street, there's a place you can't lose!
It's called Nargilhana Oaza (you can find them on facebook) and there you can smoke narghilè and drink very good cocktails and, obviously, at very low cost!! Boys who work there are very kind, there's free wi-fi..so:
ABSOLUTALY CAN'T LOSE IT!!
6. Morica Han
It's a place created to free welcome and refreshment to caravans…there were places for horses and beds to sleep…
Today it's possible to see only a part of it because it was destroyed by fire but in its basement there is a little passage full of shops…I can't promote things that are illegal in Italy but PLEASE GO THERE 😀 😀
7. The eternal fire (Vjecna Vatra)
It's "only" a flame…
But when you'll look at it think that it has been lighted on the 6th of April 1945, day of  Sarajevo's liberation from nazifascism and that it is there to remember all the deaths of 2nd World War.
Think that it's a flame of life and hope…that is eternal as the message of life that is the fulcrum of this city.
Think that from then it was extinguished only once, during Sarajevo's siege.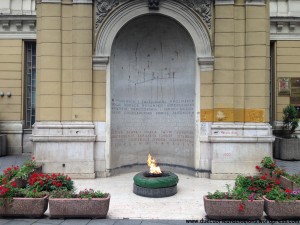 8. Alifakovac's cemetery
Two reasons to see it:
first of all to live only a part of what I was talking here: "What to live in Sarajevo"
and then to benefit of the wonderful view of Sarajevo from the hill: Alifakovac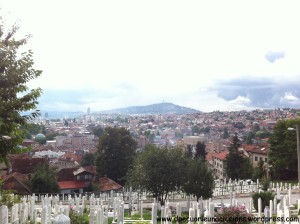 9. The tunnel museum
The tunnel was the only passage of communication with the world during the siege.
Through it passed food, medicines, guns and persons.
It was 800 metres long, today only a few of it remain but the photos and bombs exposition and most of all the video's view before going down into the tunnel make it an experience you can't lose.
We arrived there totally full of  mud because of the weather and the road to go there that it's not very good (it is in the backside of Sarajevo airport).
Once arrived, we found a man who took our helmets and told us he would take it for us during the visit.
The same man sells magnets and DVD of the tunnel there.
The same man looked a us and said: "I made it. I made the tunnel"
pride in his eyes take the horror away and he gave us a beautiful smile.
I decided to finish this post with him only to say: thank you.

If you need help to plan your holiday we can help you here!