Salento on the road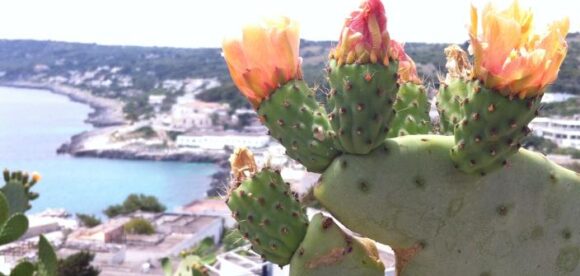 Salento on the road:
3 little secrets
Salento is one of the biggest Italians treasures, with views similar to Montenegro and beaches wonderful such as Maldive's ones.
We love those places because Claudia spent there all her childhood holidays and she was looking forward to write this post!
Here is the link to look at our road on google maps
Our stops:
Bari – Scorrano (188 km)
Scorrano – Castro Marina (21 km)
Castro Marina – Santa Cesarea Terme (6 km)
Santa Cesarea Terme – Porto Badisco (7 km)
Porto Badisco – Otranto (10 km)
Otranto – Bari (200 km)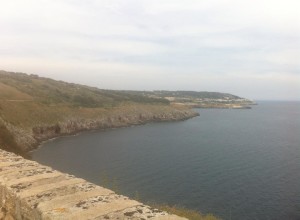 Our three secrets:
1.  Saint Domenica
Scorrano is a town with about 7.000 inhabitants, we stopped there to say hello to some parents there, but if you are in Salento from 5 to 7 July you have to stop in Scorrano!
In those days about 650.000 tourists reach the town because of the patron's saint festival and they are now working on illuminations.
So, why so many people?
We give you some proofs:
– every year in Valencia (Spain) a contest for illuminations' masters takes place. Companies that show their works made for Santa Domenica's celebrations win every year the first prizes (more infos about this special contest here);
– international champions take care of pyrotechnics shows too and a very emotional pyro-musical show takes place;
– if you still have doubts, take a look here: Santa Domenica's video – Scorrano.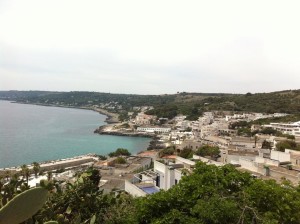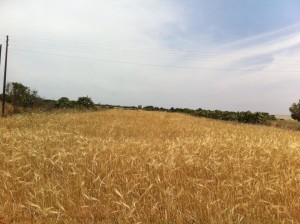 2. The road
Whe chose carefully the streets, the coast has wonderful landscapes and whe didn't go down to Santa Maria di Leuca in order to have time to stop, enjoy the view and come back home before night.
Our love for Balkans, maybe comes from affinities with Apulia's landscapes, with these cliffs, with this crystal clear water and with all the green that gives life to our land.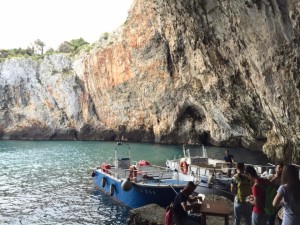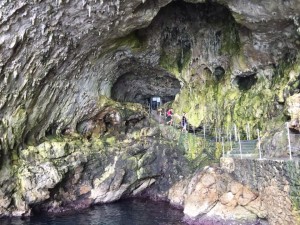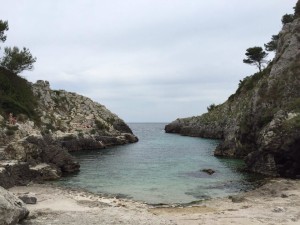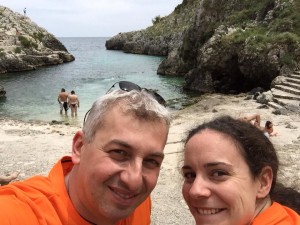 3. Castro Marina: Località Acquaviva 
A wonderful place: crystal clear water and shadow zones for childs.
It's the place of my soul, every time I come back to Salento I go there and it feels like 20 years ago. I see my dad coming out from the water with a bag full of sea urchins and we, childs, making plunges from the rocks.
An unbelievable place, full of magic.
How the wise Fabrizio (guaranteed origin from Salento) says:
"In Acquaviva there are some points with cold water and some other with…frozen water!"
It's not a lie guys 🙂 the water you'll find there is "just born" from subterranean springs and you'll have a very regenerating bath.
In lass then 5 minutes we reached Zinzulusa cave, absolutely unmissable if you visit this zone, low price tickets and unique sight.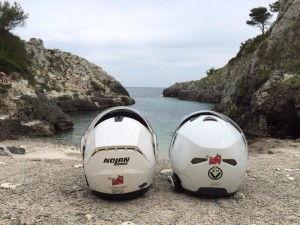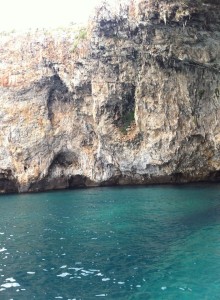 4. Porto (harbour) Badisco, motorbikes and Enea
The road between Castro and Otranto is a paradise for bikers, we wwnt down to Porto Badisco and discovered that we were not alone!
Lots of motorbikes parked near the little harbour and other ones preceded us on the road.
Where there's sand water seems not clear such as places with rocks but the place is splendid and there is a little restaurant and fish and chips shops on the road.
You can stop here to eat or drink something and enjoy the place and then leave.
Pursuant to an interpretation of Eneide, this harbour is the first landing place of Enea.
We don't know if Virgilio visited this place but, if he could,
there isn't a best dock in the world! 
Our last stop was Otranto, that is not a secret place, but surely one of  the pearls of our beloved italian heel!

If you need help to plan your holiday we can help you here!