One lovely blog award!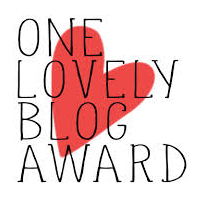 Controllate se vi ho taggati!!!      Check if we chose you!!
Questo è il nostro primo "premio" da blogger e siamo superfelici di ringraziare Max510's  e The Blog around the corner,  i loro meravigliosi blog, come noi, parlano di viaggi e di vita!!!E anche
Grazie mille per aver pensato a noi!!
This is our first bloggers' award and we are REALLY happy to thank Max510's  and The blog around the corner their wonderful blog that, as our, talk about travles and life!!
Thanks a lot!!!
Le regole per accettare il One-lovely-blog-award sono:
The rules for accepting the One Lovely Blog Award are:
1. Ringraziare e linkare 😉 la persona che ti ha nominato: fatto!
1. Thank and lonk back to the person who nominated you: Check!
2. Elencare le regole e condividere il premio: fatto!
2. List the rules and display the award: Check!
 3. Inserire sette informazioni su di voi: le abbiamo elencate sotto 😉
3. Include seven facts about yourself: check above
4. Nominate circa altri 15 blogger e fategli sapere del premio: anche questo è sotto
4. Nominate around 15 other bloggers and let them know about the awars: see below
5. Segui, se ancora non lo fai, il blog che ti ha nominato: fatto!
5. Follow the blogger who nominated you (if not already!): Check!
Sette informazioni su di noi:           Seven facts about us:
1. Non potremmo vivere senza la Ciccions
1. We can't live without the Ciccions
2.Siamo follemente innamorati
2. We are madly in love
3.Siamo un veterinario ed una quasi-avvocatessa
3. We are a vet and a lawyer (almost)
4.Claudia non partirebbe mai senza un paio di scarpe alte
4. Claudia can't leave without high shoes
5.Pasquale non partirebbe mai senza il multi-tool
5. Pasquale can't leave without his multi-tool
6.Noi non partiremmo mai senza KappaTigreMme
6. We can't leave without KappaTigreMme
7.Dato lo spazio e il tempo dei nostri viaggi, usiamo solo l'iPhone per le foto :/
7. Because of space and time of our travels, we use only iPhone for photos :/
E noi nominiamo…   And our nominees are:
Il giardino segreto
Blogaway
La mia vita in Marocco
The day by night
Posto corridoio
Melissa Chahine
Opinionista per caso Viola
(pre)concept break your journey
Camera a sud
Piatti coi tacchi
Martinaway
Il mio mappamondo
Pega's photography blog